MESSAGE FROM THE PRESIDENT REGARDING SECURITY
Use link for Message about Security
Congregation Ohav Emeth is located in the geographic center of the Highland Park / Edison observant community in New Jersey. Our membership spans the range of halacha-committed Jews, with an attitude of achdut (unity) and religious tolerance. We share a love for Medinat Yisrael and a serious commitment to Torah study for every age and gender and at every level. We have a multitude of ongoing educational and social programs as well as frequent special events.
Please explore our web site to learn more about our active synagogue and lovely community.
In honor of the Centennial Anniversary of Congregation Ohav Emeth, we are offering special dedication opportunities.
See our progress page!
The sanctuary will be painted this week. Please remove all talleisim, sefarim, etc so that they do
not get damaged.
-Renovation Committee
All Events
Benefit Concert for Tomchei Shabbos


Motzei Shabbat, Dec 15th

7:30p

to

9:30p




A Benny Friedman concert to benefit Tomchei Shabbos. Dec 15, 7:30pm at Highland Park HS 102 N. 5th Ave. For info & tickets, visit tomcheimc.org or email mcjewishevents@gmail.com

Orthodox Forum of Ediston/HP


Motzei Shabbat, Dec 22nd

8:00p

to

9:00p




R' Ronald Schwarzberg on: "When Did Tikun Olam Become a Jewish Value? Orthodox American Jewry's Involvement with Social Justice".
Asara b'Teves Tuesday December 18
Fast begins 5:47 am
Fast ends 5:13 pm
Notable
FOOD BANK
We gladly accept any unopened, non-perishable food items and toiletries.
EMPLOYMENT NETWORK RARITAN VALLEY
enrv.org
Job, resume, search help. Send openings to ENRVInfo@gmail.com
============
Rosh Chodesh Shidduch Group
Monday, Dec 10 8:00- 9:30pm
Next meeting: Mon Dec 10, 8pm , All welcome. Please bring resume/picture to share.
A Call for Women's Shiurim
We are interested in having more frequent shiurim for women. If interested in speaking, please let us know type, length, time of year, (Elul, Simchat Torah, any time, etc.) . First time speakers welcome!
Contact Office.
______________
The next Shabbat Mevorchim
Kiddush will be for Shvat on January 5
To become a sponsor for either: the 7:50 Minyan or the Main Minyan please email kiddushoe@hotmail.com and specify which minyan
_______________
Shaimos Collection
Nov 5 - Dec 26, 9am – 1pm. Must be in tied garbage bags. Limit of 50 lbs per bag. $18 donation for small bags, $36 for large bags.

* * * * * * * * * KOSHER MEALS ON WHEELS Kosher Meals on Wheels needs a volunteer to deliver meals to the homebound in HP on Thurs AMs. Pick-up in Metuchen, expected time is 2 hrs/week. Also looking for sub drivers – those who can be available on-call. Call Sara 732- 777-1940
------------
Park Mikvah Melave Malka for Women
Motzi Shabbos Feb. 23, 2019
Speaker:
Charlene Aminoff
Gali's Couture Wigs
AHAVAS ACHIM ISRAEL MISSION
17th annual Israel Mission Jan 16-28. For info: aamission@arieltours.com arieltours.com/aamission.
___________________
ACHIEVING CHANGE THROUGH TORAH
(ACTT) info@actt613.org
-------------
To place business cards or flyers on the shul's cork boards by the restrooms, please submit them to the office. Flyers placed in other locations will be removed.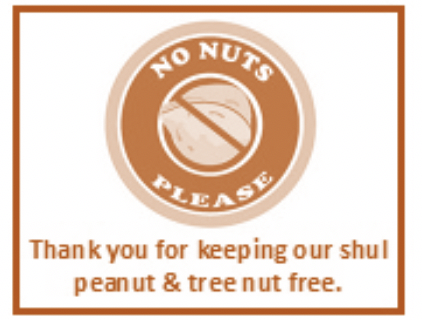 FROM THE OHAV EMETH WEBSITE COMMITTEE
At this time, we would like to invite our members to create accounts on this new Congregation Ohav Emeth website (www.ohavemeth.org), hosted by ShulCloud. ShulCloud, an established system that hosts several hundred synagogue websites and back-office operations, is quite secure.

Briefly, login access to the website will allow you to do the following:
Review your financial account with the Shul and make payments to the Shul via Credit Card or PayPal

Review and edit your family's profile, including names and ages of family members, yahrtzeit reminders, and other personal information
In order to get access, just email the website administrator at admin@ohavemeth.org and make sure to include your name. If both spouses in a 2-adult family would like access, each should email the administrator separately. Each spouse will be able to access the full account. The administrator will activate your account and you will be sent an email invitation to set your password and log onto the site.

For now, the gabbai will continue to maintain the yahrtzeit lists that are used in shul. The yahrtzeits in ShulCloud will be used to generate reminder letters prior to the date of the yahrtzeit, as we currently do.

For now, the shul office will continue to maintain the shul email list for announcements and other broadcasts. If you are not on the email list and would like to be, please contact the office separately.
In the future, the site will also enable you to sign up for events, reserve High Holiday seats, sign up for Torah reading, and other functions not possible on our old site.

Account access is currently being offered to members and associate members only.

--Steve Stein, Ohav Emeth ShulCloud Administrator
Get directions to find us
Fri, December 14 2018
6 Tevet 5779
Alot Hashachar
6:01a
Earliest Tallit
6:14a
Netz (Sunrise)
7:13a
Latest Shema
9:33a
Zman Tefillah
10:19a
Chatzot (Midday)
11:52a
Mincha Gedola
12:16p
Mincha Ketana
2:35p
Plag HaMincha
3:33p
Candle Lighting
4:14p
Shkiah (Sunset)
4:32p
Tzeit Hakochavim
5:22p
More >>
Schedule of Services
Mincha/Maariv Week of Dec 9

4:20 pm

(Late Maariv 7:50p Mon-Thu)

Kollel Mincha Sun-Thu 1pm, Fri 12:30

Shacharit, Week of Dec 16

Sunday

6:30, 8:00 am

Monday

5:50, 6:30, 7:20 am

Tuesday

Asara b'Teves

5:40, 6:10, 7:00 am

Wednesday

5:55, 6:40, 7:20 am

Thursday

5:52, 6:40, 7:20 am

Friday

5:55, 6:40, 7:20 am

Candle lighting
12/21 at 4:16 pm

pdf Link
If you would like to be added to the Ohav Emeth phone or email list, contact Aliza
office@ohavemeth.org
OE office hours this week will be:
Mon, Tue, Th 10-3. Closed Wednesday
Fri: 9:00-1.
THE NEW YEAR WILL SOON BE HERE!
With the end of 2018 fast approaching, please be sure to redeem your pledges and to keep OE in mind when making end-of-year, tax deductible donations.
Account statements have been mailed out. Please contact the office by phone or email with any questions.
Please submit any checks or credit card transactions by 12:00 noon on Thursday, December 27.
Thank you!
Fri, December 14 2018 6 Tevet 5779